Our Impact
Im•pact /noun/: the effect of one person, thing or action on another; /verb/: to impact on; to have a strong effect on someone or something.
As an Alliance, we strive to create health equity for everyone living in the Monadnock region. We believe every individual deserves a fair and just opportunity to live their healthiest life possible. Our work and theory of change–Partnerships, Programs, Policy, System and Environmental Changes, address these challenges by focusing our efforts on root causes to produce not just a healthy lifestyle for individuals, but to impact large scale change throughout our community.
79
organization members working to advance the Healthy Monadnock Alliance priority areas
93%
insurance coverage among Cheshire County residents, up 7% in the latest study
88%
experiencing good or better health, reported by local adults, up 5.5% in current data
89
policies and protections enacted at state, town, and organizational levels to safeguard people of all ages from secondhand smoke
9
municipalities with increased access to safe physical activity with the Complete Streets program, helping to create equitable, affordable, and livable communities for all
11,000+
employees given access to enhanced worksite wellness benefits
2,300
community members who have benefited from behavioral health education
32
schools with new policies and programs to support student wellness efforts
1,000+
people trained in emergency preparedness including NARCAN training
The Stories Behind the Numbers
Finding friendship on the path to a healthier lifestyle: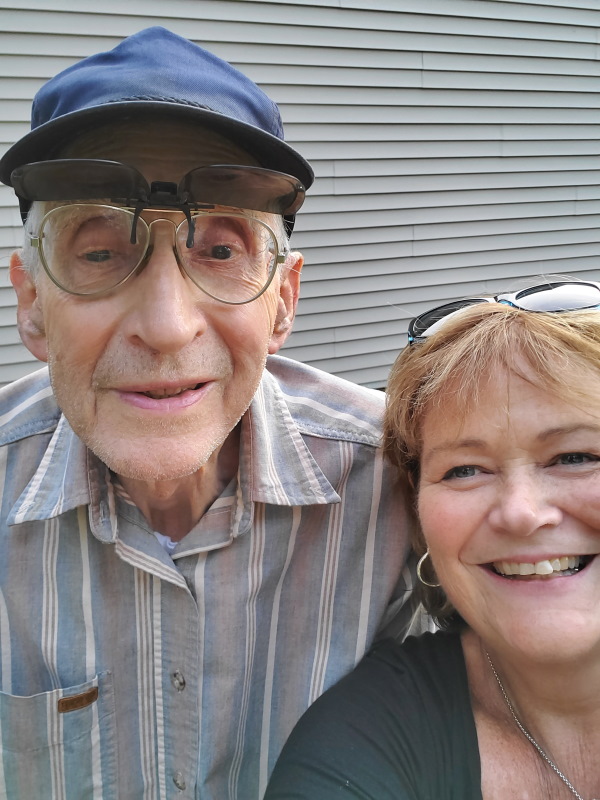 There were some days Sue Tempesta just flat-out didn't feel like walking. Despite needing just a few more strides to meet her daily goal of 10,000 steps as part of the Right This Way online wellness challenge, she just couldn't muster the motivation. Then she'd hear a familiar voice coming from down the hallway.
"He would knock on my door and say, 'Let's go,' " Sue recalls. That would be 85-year-old Hughston Chumley, Sue's upstairs neighbor and walking buddy. So she'd go. She'd always go.
Sue joined Right This Way through her employer, MillisporeSigma in Jaffrey, as part of the Wellpowered Worksites program offered through the Center for Population Health at Cheshire Medical Center. The program gave Sue a goal of 10,000 steps a day, so she started walking laps around the apartment complex where she lives.
That's where Hughston—who had recently lost his wife of 50 years and was a little short on camaraderie—came in. He noticed Sue was walking a lot and approached her one day. She explained the program, and he was hooked.
"He'd say, 'Did you get your 10,000 steps?' and I'd say, 'No, not yet,' " Sue says. "And he'd go, 'One more time around!' They'd walk and talk, and talk and walk. There were almost as many stories as there were steps.
Swamp Bats: Making Ballgames Healthier
Baseball games and summer go together. But some fans are conditioned to order unhealthy options at the concession stand- mainly because that is all that traditionally is available at ball games: cheeseburgers, hot dogs, ice cream, and of course Cracker Jacks! And while the players are getting plenty of exercise on the field, fans in the stands are not. The Keene's Swamp Bats collegiate baseball team, was determined to change that—making home games not only fun but healthier for the fans, players, volunteers, and staff.
All home games now feature designated healthy choices at concessions plus everyone will have the opportunity to move more through the addition of a third inning dance and stretch break — all while enjoying a stadium (Alumni Field) that prohibits smoking, vaping, and smoke-less tobacco.
"Healthy choices haven't traditionally been a part of the baseball fan culture, but it's become part of the culture for the Keene Swamp Bats. People come in from out of town, and they are often surprised to find healthy food options. We just think it is the right thing to do — and the third inning dance break is fun!" — Vicki Bacon, General Manager, Swamp Bats